2016 Oregon Claims School
Date/Time
03/30/2016
8:00 am - 6:00 pm
Location
McMenamins Kennedy School
Event Type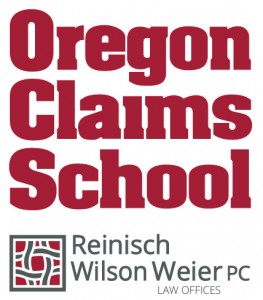 Our annual seminar will include a full-day of timely presentations by our attorneys and guests and 6 CE credits
Can't come to the seminar? Join us for a hosted Client Social immediately following the seminar — also at McMenamins Kennedy School.
Address: McMenamins Kennedy School, 5736 NE 33rd Avenue, Portland, OR 97211
All attendees will be entered into a drawing for a $100 McMenamins gift certificate.
Agenda–March 30, 2016:
8:00 to 9:00 AM: Registration
9:00 AM to 4:00 PM: Education Seminars
The Education Seminars will be held in the Kennedy School Auditorium
New Rules and Claimant's Counsel Fees
Attorneys Matthew Fisher and Vincci Lam review many of the new rules as a result of HB 2764 and other legislation. (1 Oregon CE Rules credit)
Vocational Eligibility and Rules Refresher
Attorneys Amy Osenar and Ned Arenberg to present. (1 Oregon CE Rules credit)
Take it or Leave it: WC, Reinstatement and Other Employment Leave Laws
Nathan Goin discusses the interplay between workers compensation, the Family Medical Leave Act, the Oregon Family Leave Act, short term disability the new Oregon sick leave and employee reinstatement. (1 Oregon CE credit)
Ethical Considerations in an Electronic World
Attorneys Kelly Niemeyer and Michael Jones present issues around social media surveillance and electronic communications (1 Oregon CE credit)

Kicking up Your Heels
Attorney Bin Chen and Podiatrists Dr. Cindy Hsin-Ming Peng, DPM with Pacific Foot & Ankle Clinic, LLC and Dr. Denny Van Le, DPM, Chief Resident, Legacy Health/Kaiser Permanente discuss the mechanical causes, disabilities and treatments for foot and ankle injuries. (1 Oregon CE credit)
Getting Your Money's Worth: The Oregon Workers' Benefit Fund
Attorney Brian Solodky and Virgil Osborn, Contested Case Coordinator of the Workers's Benefit Fund, will describe the funds and methods to utilize this public resource. (1 Oregon CE credit)
4:00 Hosted Social
(located in the Kennedy School Gymnasium)

Registration is $59 per person–includes a full-day of learning, lunch, breaks and our hosted social immediately following. Questions? Contact us at marketingm@rwwcomplaw.com.
You may register more than one if requesting an invoice, otherwise complete the form below for each individual and use the PayPal link for your credit card.
Make Your Reservation
Reservations are closed for this event.
« Back to Events